Looking for the SaaS Statistics 2023? If yes then you are in the right place.
In this article, I'm going to share the latest & top SaaS stats that you should know.
We all know that When software is licensed to customers on a subscription basis, it is referred to as Software as a Service, or SaaS. ZenDesk, Slack, and BigCommerce are just a few instances of this.
SaaS provides a variety of payment methods, accessibility, scalability, security, regular updates, and enhanced cooperation.
Businesses are increasingly using SaaS applications in their daily operations. This article contains 60+ SaaS benchmarks, trends, and facts that you should know in 2023.
---
⭐ Editor's Pick (Top SaaS Stats 2023)
As of 2023, SaaS is worth more than $170 billion
There are over eight times more SaaS companies in the United States than in any other country
SaaS industry is projected to increase by over 2 times by 2025
In just two years, the SaaS market in India has increased by about 75%
Around 41.12% of Startups were part of the SaaS Sector in 2020 
After the past ten years, the size of China's SaaS cloud industry has increased year over year
By 2025, 80 percent of firms intend to make all of their systems SaaS
Between 2018 and 2020, Zoom increased its 5x market revenue
---
SaaS Growth Statistics 2023
1. SaaS applications account for 70% of all enterprise software usage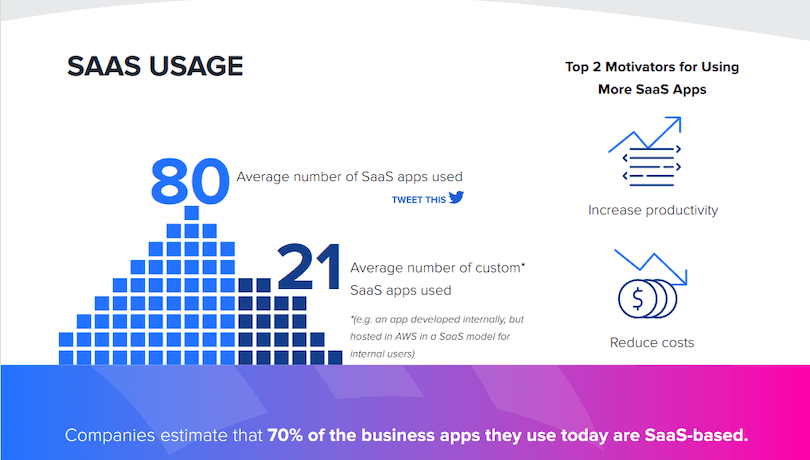 The average usage of SaaS applications by organizations has increased suddenly in recent years. By 2025, it is expected that 85 percent of software used by businesses would be SaaS.
And the number of apps is rising year after year, from an average of 8 in 2015 to 12 in 2016, and 16 in 2017.
2. Since 2013, the market for cloud applications has risen year over year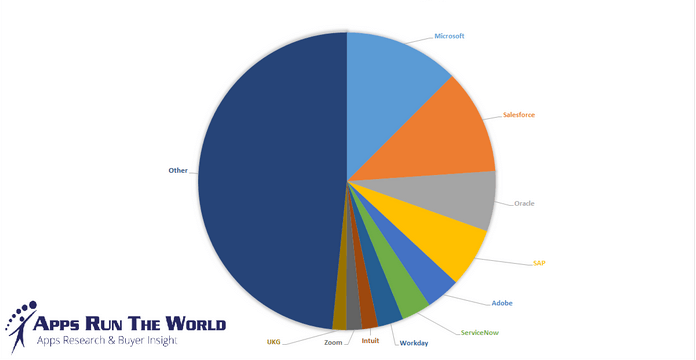 From $30.3 billion in 2013, the market has expanded to reach $124 billion in 2019. The cloud application business is booming and no talk about its slowing down. The cloud application industry will reach $168.6 billion by 2024.
3. In the next five years, half of all firms that use numerous SaaS services will centralize administration
It is expected that 50% of firms will integrate SaaS application administration by 2026 which will provide project management tool usage metrics for these apps.
4. The pandemic has no effect on 1 in 5 firms' SaaS spending
During Covid, a lot of losses were faced by organizations where 23.5 percent of respondents reported lower expenditure on SaaS.
And a decline in SaaS spending of 10% to 20% was mentioned by 11.9 percent of all respondents. Due to the pandemic, 11.6 percent showed spending over 20% less on SaaS.
5. Annual contract values for "as-a-service" have climbed by more than 5x in the last six years (Information Services Group)
In Q2 2015, the as-a-service sector's ACV was $2.1 billion and by Q2 2018, the figure has nearly tripled ($6.2 billion). Since 2015, the Annual Contract Value in SaaS has been continuously increasing and ACV topped $10 billion in Q2 2021, up from $9.9 billion in Q1 2021 to $11.2 billion in Q2 2021.
6. SaaS is completely used by 38% of companies
Before Covid SaaS was not that much popular as after Covid. Covid made companies adopt SaaS and that's how it became a SaaS trend. Now, 38% of companies completely use SaaS.
7. By 2025, 80 percent of firms intend to make all of their systems SaaS
It's blooming, and there are a lot of SaaS trends to talk about. It grew at an incredible rate last year and is expected to do so again in the near future. SaaS already accounts for a significant portion of software firms' quarterly revenues.
8. The United States has the most SaaS organizations (15,000), followed by the United Kingdom, Canada, and Germany
The United States has approximately 17,000 software as a service (SaaS) companies In 2023. They have a combined customer base of roughly 59 billion people around the world. With 2,000 enterprises and 3 billion customers worldwide, the United Kingdom is in second place.
9. A multi-cloud environment is used or planned by 90% of firms in Asia and the Pacific
This allows them to maintain uniformity in terms of security strategy while also lowering overall costs. Finally, it allows them to respond to changing requirements with greater agility. The process's primary priority is security.
10. Over 100 nations are served by SaaS companies
SaaS companies are adopted by over 100 countries. Where the United States stands at 1st place and the United Kingdom stands at 2nd.
---
Regional SaaS Stats 2023
11. The United States has over 8 times the number of SaaS companies as any other country
There are around 16,000 SaaS companies in the United States (which is 14,000 more than the next largest market, the United Kingdom). The top five SaaS countries include Canada, Germany, and France.
12. SaaS industry is projected to increase by over 2 times by 2025
The largest SaaS industry in the world is in the United States. And, it was estimated to be worth $108.4 billion in 2020. In 2025, this figure is expected to rise to $225 billion. That's a more than 100 percent rise.
13. Between 2020 and 2025, the UK SaaS industry is predicted to nearly double
The UK SaaS sector was worth approximately €7.5 billion in 2020, which is estimated to nearly double to €14.5 billion. Another significant market for SaaS applications is the UK.
14. It is expected that the SaaS industry value is going to increase by over 2x in major European markets
Germany leads the European SaaS market sales with €6.85 billion. In 2025, this is projected to rise to €16.3 billion. With €4.75 billion in revenue last year, France has the second-highest SaaS European market share. In 2025, it is expected that this amount will increase to €11.05 billion.
15. By 2025 Germany is expected to face the largest increase in SaaS industry growth from major markets
It was estimated that by 2020 the German SaaS industry will be worth €6.85 billion. This number is estimated to grow by almost three times to €16.3 billion by 2025.
16. It is anticipated that in 2023, end-user cloud SaaS spending will increase by over $365 million
Spending on cloud SaaS by end-users, which was over $243 million in 2019, climbed by more than $60 million (to $305 million) in 2021. And is projected to rise by a comparable amount, reaching $362 million in 2023. From 2019 to 2021, end-user spending on cloud SaaS in Australia rose year over year.
17. In 2023, it is estimated that the Latin American SaaS industry would have grown to $5 billion in value
The Latin American SaaS industry has grown in value from time to time from $1.48 billion to $4.11 billion from 2017 to 2021. In Latin America, the SaaS industry is estimated to expand rapidly as well.
18. Around 41.12% startups were part of SaaS Sector in 2020
In Brazil, the SaaS startup model dominated all others by at least 2x. With a 19.4% share of all businesses, marketplace startups were the second most popular startup model in Brazil.
19. After the past ten years, the size of China's SaaS cloud industry has increased year over year
Last year, ¥47.34 billion was the estimated SaaS industry size in China. Since 2013, China's SaaS industry has grown significantly, from ¥3.49 billion to ¥16.87 billion in 2017.
20. It is forecasted that Japan's SaaS market value will surpass ¥1.5 billion in 2023
The SaaS market in Japan was valued at about ¥430 million in 2017. Since 2017, the value of the Japanese SaaS market has increased annually. In 2023, it is projected to reach ¥1.67 billion.
21. In just two years, the SaaS market in India has increased by about 75%
In India, SaaS businesses produced $2.1 billion in revenue in 2018. In the 2020 fiscal year, this sum increased by $1.4 billion to $3.5 billion.
---
General SaaS Statistics 2023
22. Between 2018 and 2020, Zoom increased its market revenue by 5x.
Some conferencing businesses have experienced significant year-over-year growth in the SaaS industry. "Zoom" is at the top of this market. The conferencing business had $45 million in revenue in the first quarter of 2018. In Q1 2019, this sum increased to $90 million. In Q1 2020, it increased even more to $225 million.
23. Cloud security has Shown quick growth in the IT security market
Global IT security spending by industry was broken out in a 2021 analysis. In comparison to the previous year, 2021 is expected to see a 41.2 percent increase in cloud security.
24. Compared to other B2B SaaS CRM companies, Visma generates almost three times as much revenue
With $2.2 billion in projected sales from B2B SaaS CRM, Visma is the market leader in 2021. With $763 million in revenue in 2021, Qualtrics came in second place among companies in this sector. With $500 million in revenue, Zoho comes in second.
25. Over 56,000 people work at Salesforce
As of January 2023, Salesforce, which has about 56,000 workers, is the largest publicly traded SaaS vendor. Salesforce's market value was $224.88 billion at the time. Workday, a publicly listed SaaS company, has 11,000 employees in 2019, which was the second-highest number.
26. Salesforce Tops the public cloud SaaS
In 2020, the top five public cloud service providers' combined revenue (Amazon Web Services, Microsoft, Salesforce.com, Google, and Oracle) captured 38 percent of the global total and grew 32 percent year over year.
In 2017, Salesforce and Microsoft combined for over 29.5 percent of the SaaS market share, up to just 18 percent in 2016. Where salesforce holds 9.3% alone in 2020. Cloud software is gaining a name in the market quickly. Several cloud platforms are out there to use.
27. In the financial quarter of 2021, Microsoft earned more than $15 billion
In a financial quarter in 2021, Microsoft generated more than $15 billion. In terms of revenue for the fiscal quarter this year, Microsoft is the top cloud vendor. In its third fiscal quarter of 2021, the IT giant produced $17.7 billion. With $13.5 billion in revenue.
28. Adobe holds $170.5 billion worth SaaS market
For the 1st time in history, the market value of the top 10 companies crosses $1 trillion.
This year, Adobe Incorporated is the most valuable public SaaS company listed on the US stock exchange.
29. Salesforce's market capitalization is more than $200 billion
With a market capitalization of $249.1 billion, Salesforce comes in second place. Five more SaaS companies hold a market capitalization of over $100 billion. Six more companies have a market capitalization on the US stock exchange that is greater than $50 billion.
30. Over 35% of the top three African countries use Azure as their primary SaaS platform
Azure is used as their primary cloud provider in Nigeria (50%), South Africa (49%), and Kenya (37%). In the chosen African markets, Google is the second most famous provider.
31. Cloud services account for more than two-thirds of Oracle's revenue
Oracle is a global company that has recently shifted its attention to SaaS. Over two-thirds of Oracle's overall revenue as of 2018 came from cloud services and licensing support. Cloud services generated $28.7 billion of Oracle's overall revenue in 2021.
---
SaaS (Software as a Service) Pricing Stats 2023
32. Customers are only charged when they use the service or product, according to 38 percent of SaaS organizations
First, companies used to charge their users for the adoption of their services and companies saw a slow downfall in revenue. Later on, they started to charge their users when users will use the service.
33. User-based pricing, in which customers are charged depending on the number of users, is used by 50% of SaaS enterprises.
34. Despite the fact that many businesses claim to provide fewer discounts and free trial periods seems to be the most popular
The 'per user' price model is one of the most typical value indicators we encounter in SaaS. While it's simple to understand and calculate, it's not always the best pricing strategy for your clients. There are four ways that a per-user pricing plan like this can harm the revenue growth of your SaaS company.
Limits adoption
Easier to Churn
35. 31% of SaaS companies claim to give few discounts
A tool was launched for SaaS companies that allowed them to analyze their pricing maturity and receive advice on how to take their pricing to the next level. Where 2,200 SaaS companies participated and this data came as a result.
36. More than 50,000 SaaS vendors provide customers with discounts of 30% or more
The level of competition is rising. Your customers have high expectations from you. The tactics which you used for growth in the last 5 years are not going to work for the next 5 years. Either you adapt to the new SaaS economy or you will be left behind.
37. The most popular free trial term is 30 days
The world is quickly adopting SaaS for their businesses and SaaS adoption is helping their businesses to grow. Most SaaS companies give a 30-day trial time period.
38. A SaaS company's best overall number of paid packages sold is three, or a low, medium, and premium option
You risk confusing people if you offer too many product or service packages. If you offer too few, you end up hurting a huge portion of your target market. The optimum number of packages given appears to be three on over 40% of the analyzed pricing pages.
---
Other SaaS Statistics 2023
39. The most crucial technology for corporate success is SaaS
SaaS was rated as the most crucial technology for achieving corporate objectives in a 2021 survey (from a list of ten technologies). A total of 73 percent of the 1,724 respondents think SaaS is important in some way.
40. Less than 15% of all enterprise spending goes toward SaaS
Despite being a mature sector, enterprise Software-as-a-Service only represents 15% of overall enterprise software spending, according to SaaS statistics.
41. The main SaaS-related security problem is encryption
At least 32% of respondents voted for each of the 10 security issues as a SaaS security issue.
42. 94% of the 786 technical professionals in small and big businesses surveyed for the study use cloud SaaS
Cloud SaaS is used widely after covid and it was seen that 94% of technical professionals adopt cloud SaaS. Businesses will likely continue to be impacted by COVID-19, which will accelerate the transition from offline to online modes. Cloud-based SaaS is also very popular and must be adopted.
43. In 2017, 86% of data center workloads were performed in the cloud; by 2021, this percentage had increased to 94%
This statistic provides a forecast of cloud workloads as a share of all workloads in data centers between 2011 and 2021. 86 percent of all workloads in data centers worldwide in 2017 were on the cloud.
44. Average of 34 SaaS apps are used by Companies
They utilize 34 apps on average. 2.1 times more than in the typical workplace.
They are in comparison to the typical company:
7% more people believe SaaS reduces costs.
SaaS users are 8% more likely to say that it improves communication.
45. The cloud is presently used by 50% of US Government organizations
The two main factors influencing cloud adoption in government are cost savings and effective service delivery. The use of public cloud services by the Government is estimated to grow by double digits.
46. Government cloud spending will increase by 17.1% annually on average until 2021
An average of 20.4 percent of Companies' IT budget is spent on Cloud across all industries. Government entities use the cloud differently, whether they function at the federal, state/provincial, or municipal levels.
47. Enterprise businesses believe they are "intermediate" or "advanced" in 68% of cases
While another 38% spend more than $2.4 million, 50% of businesses spend between $1.2 million and $2.4 million annually. With 84 percent of businesses using one, they primarily choose a multi-cloud strategy.
48. 16% of business organizations are in their first stages
Examining cloud adoption, we can also observe a rise over the prior year. In 2019, as opposed to 66 percent the year before, 68 percent of businesses were in the intermediate and advanced stages.
49. 12% of businesses are watching the sector but haven't taken any action to get involved or learn more
Additionally, 12 percent of businesses are actively studying the sector, up from 9 percent in 2018, even though they haven't taken any action.
50. Because of its flexibility and scalability, cloud-based SaaS is appealing to 70% of CIOs
These same skills can be crucial for CIOs in times of crisis. In addition to securing business operations and encouraging agility and resilience across the entire organization followed by rapid response and recovery, tech leaders' responses to the COVID-19 pandemic should also include taking the top position of investments and initiatives that will position the company to prosper over the long term.
51. Operating systems account for 12% of a company's SaaS spend
Companies use SaaS for better business and scalability and flexibility. But only 12% of the company's spend for SaaS is on operating systems.
52. Usually 38% of companies adopt cloud-based systems to improve disaster recovery
Cloud-based systems are in trend and are used by many companies. It is adopted by most Companies adopted to improve disaster recovery.
53. Cloud-based systems are adopted for flexibility by 37% of companies
Flexibility plays a vital role in work in companies and it makes or breaks the business. So, businesses adopted cloud-based systems for flexibility.
54. Security software costs businesses 10% of their SaaS spend
Most of the platforms are being shut down due to privacy. So, companies can't overlook the security of their users. So, 10% of the SaaS budget is alone for security software.
55. The productivity portion of a company's SaaS spend is 10%
Companies focus on productivity because it plays a supreme role for companies to increase their business. 10% of a business's SaaS budget is kept specially for productivity.
56. One-year SaaS contracts are taken by 48% of businesses
One of the best things to happen to computers in recent years, SaaS has many firms eager to acquire such platforms.
An average one-year contract is used by 48% of organizations, while 13% use month-to-month agreements, and 11% use contracts lasting three years or more (Key, 2020).
57. The largest SaaS organizations have blogs in 85% of cases
Having a blog proves to be useful and profitable in most cases. Then companies started to use their own blogs and 36% of SaaS companies only blog to educate.
58. The most developed software market is in North America
Software as a Service (SaaS) has grown by a good number in the last years. North America has the most developed SaaS market and is known for SaaS adoption.
59. The Asia Pacific region will begin to expand from 2023
In terms of the adoption of cloud computing services, North America is the most developed market but the Asia Pacific region is expected to be the fastest-growing in cloud computing.
60. The majority of the largest SaaS companies in the world use WordPress for content marketing solutions, whereas only 12% use Hubspot
Content marketing is used widely by many bloggers and others which gives results. So companies started using content marketing. It is found that 54% of companies use WordPress and only 12% use HubSpot.
61. Businesses that don't request credit card information when users sign up for a free trial get twice as many paying clients
You'll also notice that allowing sign-ups without a credit card results in twice as many people signing up for free trials. When sales representatives get in touch with trial users, the likelihood that they will become paying customers rises by an additional 70%. 90% of SaaS companies prioritize "New Customer Acquisition"
---
Also Read:
---
Final Words about SaaS Statistics 2023
The list of SaaS statistics and trends for 2023 is now complete.
As you can see, SaaS businesses are growing more and more common in contemporary companies. and are anticipated to keep growing steadily. In addition, SaaS businesses have seen rapid expansion that was sparked by the pandemic.
If you still have any confusion regarding this SaaS Stats then please let me know via comment below.
Resources: