If you're looking for a platform to create online courses and build a strong community, you might have come across Skool.
But what makes Skool stand out from other platforms?
And why is this Skool review worth reading?
Stick with me, because I'm going to share my experience with Skool's platform, and reveal the features that impressed me, along with the areas I think could be improved.
So, without any further delay. Let's start this Skool.com review.
Affiliate Disclosure (Please read it): 🙏
The Free trial links of Skool.com available in this article are my affiliate link. If you'll use that link to activate the free trial and suppose you purchase Skool plan after the free trial period then I'll get a small commission without costing you anything extra. It'll only help me to run this blog successfully and provide helpful content like this for Free. Thanks in advance if you are going to use my affiliate link for activating the free trial of Skool. ❤️❤️❤️
---
Skool Review and Basic Info
| | |
| --- | --- |
| Product Name | Skool |
| Use For | Creating online community and course |
| Good For | Course creators, trainers, coaches, businesses |
| Pricing | One Plan: $99/mo (Know more) |
| Discount | No discount is available even on the yearly plan |
| Money-back Guarantee | N/A |
| Free Trial | Available (Click here to try it for FREE) |
| Our Rating | 4.7/5 |
---
What is Skool?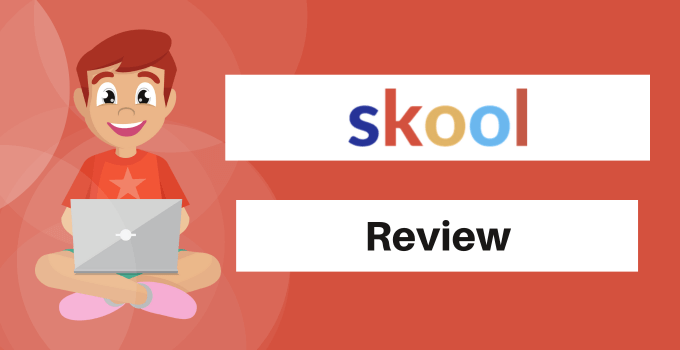 Skool is an online platform that lets you create and manage online courses, while also providing a space for your students to interact and learn.
---
Inside Skool: A User's Experience
Let me walk you through my journey with Skool.
📧 Signing Up: The sign-up process was a breeze! A couple of clicks, a bit of basic info, and boom, I was in.
🤯 My First Impressions: The user interface? Clean, straightforward, no-frills. I liked it instantly. It wasn't overwhelming or complicated – just simple and effective.
🏁 Getting Started: There's a helpful side panel for newcomers like me. It was like having a personal tour guide, showing me around, and introducing me to all the cool features. This panel genuinely helped me find my feet.
🎥 Course Creation: Now to the exciting part – creating a course. Skool supports drip content, discussions, and even transcripts. Each of these features could add some serious value to your courses. And trust me, it's straightforward and very easy to use.
👥 Community Interaction: The rich member profiles caught my eye. Seeing everyone's activity, posts, and details, I could tell this was a feature designed to boost interaction. It felt like a community, not just a course platform.
💬 Direct Messaging: This was a winner for me! I could message anyone in the community. Think about it – direct access to your instructor or peers for any doubts, discussions, or brainstorming.
🎮 Gamification: I was impressed by the leaderboard, points system, and 'gems'. These elements make learning fun and competitive, and who doesn't love a bit of friendly competition?
📆 Event Management: Lastly, I checked out the calendar. It was simple to use and syncs with Google Calendar, Apple, Yahoo, Outlook, etc. – a boon for managing schedules and events.
Overall, My time inside the Skool course builder platform was a positive experience. It felt like a platform built with users in mind, and that matters a lot.
---
Key Features of Skool: Why Should You Choose It?
Now, let's discuss about some unique features of the Skool platform that you should know.
---
How Good is Skool's Online Course Feature?
If you're thinking about online courses, Skool has got you covered with its "classrooms" feature.
Now, why did I find it noteworthy? Well, let's break it down.
Firstly, the seamless integration is a standout.
No more juggling multiple platforms for teaching and community interaction. Everything is in one place. And trust me, that's a lifesaver!
Next up, is drip scheduling. Now, this is one neat feature!
You can schedule your course content to be released over time. It's all about keeping students engaged without overwhelming them.
Then there are the lesson-wise discussions. I mean, how cool is it to have a dedicated discussion area for each lesson? It fosters a learning community within the course.
Also, Skool offers video and audio transcripts. As a student, this is a game changer. It makes learning more accessible, plus it's great for revisiting parts of the lessons.
Plus, there's a helpful search box.
You type in a word or topic, and it shows you course lessons, community chats, and members connected to that word.
For example, I've searched "Earning" in Skool and it listed all the posts by members and coaches in community where this word is mentioned.
Similarly, it also showed me all the course videos where this word is mentioned as shown below.
It's a quick and easy way to find exactly what you're looking for on the platform.
Pretty cool, right?
So, wrapping it up, Skool's online course features get a thumbs up from me.
It's clear that they've thought about both course creators and students.
They've developed a platform that ticks the right boxes for online learning. Simple and efficient.
---
How Good is Skool's Community Feature?
One of the things that stood out for me about Skool is its community feature.
It's like having your social network built right into your learning platform.
Let's discuss its features.
Posting and Commenting
You're not limited to text here. I was able to post and comment using gifs, videos, images, and even files.
This flexibility makes discussions more vibrant and engaging.
As you can see below I can post anything like Facebook group.
Also, community members can like and comment on each other posts.
Direct Messages
The ability to send direct messages is a big plus.
Whether you want to have a private chat with a fellow learner or reach out to an instructor, this feature has you covered.
Let's see how it looks like:
Notification Bar
The top notification bar is a neat touch.
It keeps you up-to-date with replies, likes, and follows without needing to dig through your account.
Member Profiles
Curious about your fellow learners?
You can view member profiles, see their activities, posts, and even when they last logged in.
Following Posts
If you find a particularly interesting post, you can follow it to receive notifications of new comments.
No more missing out on interesting discussions!
You can simply click on the "Watch" button to follow posts in Skool community as shown below.
Gamification
I found the gamification aspect very motivating.
Your activity on the platform earns you points, and the leaderboard gives that fun competitive edge.
So, that's the community feature of Skool in a nutshell. It's interactive, engaging, and adds a whole new social dimension to the learning experience.
---
How Good is Skool Calendar Feature?
Skool's calendar feature is a real unsung hero.
This feature is not just about jotting down dates – it's about keeping the community together and making sure no one misses out.
Let's break it down:
Upcoming Events
I was impressed to see that all the group calls, in-person events, and important dates are laid out right there in the calendar.
No scrambling around to check emails or community posts.
Automatic Time Zone Adjustment
Now, this is a lifesaver!
The calendar automatically adjusts to my student's time zone.
I didn't have to do the mental gymnastics of time conversion – Skool's got my back.
Event Details
When creating an event, I could add a short description and link to it.
This made it super easy for members to understand what the event is about and how to join.
No more confusion or searching around for joining instructions.
Personal Calendar Sync
The cherry on top is that members can add these events to their calendars.
No worries about forgetting or missing anything.
Third-Party Integration
To use the calendar feature for scheduling events or calls, you do need to connect a separate scheduling platform (like Calendly or Acuity) or live hosting tool (like Zoom).
This isn't a hassle and it gives you the flexibility to use the tools you prefer.
Overall, Skool's calendar feature is like a communal bulletin board, keeping everyone in sync and the community spirit alive. It's an invaluable tool in the digital learning space.
---
How Good is Skool Gamification Feature?
Now, Let's discuss about Skool.com gamification feature in detail.
Leaderboards and Levels
In Skool, leaderboards and level hierarchies aren't just about competition.
They also create a sense of community, of people working together towards shared goals.
It look like as shown in the below screenshot.
Points System
A system where members can earn points for their interactions.
It's a smart way to keep the engagement levels high in your course.
Daily Activity Tracking
Skool keeps track of your members' daily activities.
This helps you understand their habits better, so you can tailor your course to their needs and preferences.
Rewards
With Skool, you can reward your members with badges, points, or even special content for reaching certain milestones.
It's a brilliant strategy to encourage more participation.
Monetization Strategy
You can cleverly integrate gamification with your monetization strategies.
For example, by making certain premium content available only after reaching a certain level or point threshold, you can effectively increase conversions.
Skool's gamification feature, in my opinion, is a unique and fun way of keeping your members engaged and motivated.
---
Skool Pricing Plans
When it comes to Skool's pricing, it's straightforward, which is something I truly appreciate. 
They have one pricing model – no tiers, no hidden costs.
For $99 per month, you get everything:
You can build unlimited courses with no cap on the number of students. Whether you have ten students or ten thousand, the price stays the same.
All the features are included. From the community feature to the course creation and gamification, everything is accessible without any additional costs.
The plan comes with one group. This can be an advantage if you prefer a more focused learning community, or you could consider it a limitation if you plan to host multiple groups.
You also get access to Skool's excellent customer support. If you ever get stuck, they are just a message away.
So, to sum up, $99 a month gets you a robust platform for course creation and community building with no strings attached.
This transparent pricing model makes Skool a fair deal in the market, particularly if you plan to scale your courses and user base.
---
Skool's Strengths
Alright, let's talk about the good stuff – the things that Skool does really well:
Ease of Use: The best part about Skool is that it's super simple to use. If you're new to online teaching, you'll appreciate how straightforward it is to set up your course.
Community Building: Skool nails the social aspect. The platform makes it easy to build a community with features like rich member profiles, direct messaging, and engaging forums.
Course Features: Skool's got some handy tools for creating your courses. You can set up discussions for each lesson, schedule content to be released over time, and even add transcripts to your lessons.
Gamification: The gamification features are a standout. The leaderboard, points system, and 'gems' make learning fun and competitive, which can help keep students engaged.
Event Management: Skool's calendar is a gem. It makes scheduling and managing events easy, and it syncs with most other calendars.
Single Pricing Plan: Skool keeps it straightforward with one pricing plan. You know exactly what you're getting with no hidden surprises.
Unlimited Courses and Members: I was excited to discover that I can create as many courses as I want and invite an unlimited number of students. This is a big plus for scalability.
Active Engagement Tracking: With Skool's daily activity tracking, it's simple to see how engaged your students are, helping you understand where to focus your efforts.
Intuitive User Interface: The clean and simple interface is not only pleasing to the eye but also intuitive to navigate. It's user-friendly even for people who aren't tech-savvy.
Supportive Customer Service: Although Skool lacks live chat support, their email response time is quick. It's good to know that help is just an email away when you need it.
The versatility of Use Cases: Skool isn't just for online courses. You can use it for coaching programs, support forums, and even fan communities. It's truly a versatile platform.
Member Profiles: The rich member profiles are a great touch. They allow students to express themselves and feel part of the community. Plus, as a course creator, they give you insight into who your students are.
14-Day Free Trial: Skool offers a 14-day free trial. I found this great for testing out the platform before committing.
Post Interaction: The ability to like, comment on and subscribe to posts fosters interaction among members. The file attachment feature is also handy for sharing resources.
No Advertisements: Skool has a no-ads policy. This means your students won't be distracted by irrelevant content, and your courses maintain a professional feel.
---
Skool's Weaknesses
No platform is perfect, and Skool has a few areas where it could improve. Here's what I noticed:
No Collaborative Learning Tools: The one big thing missing is collaborative learning tools. If you're hoping to host group projects or collaborative activities, you might find Skool a bit lacking.
No Dedicated Mobile App (but Coming Soon): In today's world, we do so much on our phones. It's a shame that Skool doesn't have a dedicated mobile app for learning on the go.
Limited Integration: Skool doesn't play well with others just yet. It currently doesn't integrate with popular software like Zoom or Calendly. And if you're a tech wizard hoping for APIs or webhooks for custom integrations, you're out of luck.
Lacks Built-In Video Hosting (But Coming Soon): If you plan to use a lot of video content in your course, prepare to look elsewhere for hosting services. Skool doesn't offer built-in video hosting, which might be a deal-breaker for some.
No Templates to Start With: Unlike some competitors, Skool doesn't provide starting templates. This means you'll need to build your community from scratch, which might feel a bit daunting for beginners.
Limited Live Streaming Options: I was a little disappointed to find that Skool doesn't have built-in live streaming. You have to rely on YouTube Live or Zoom for your live events.
No Space Templates: Starting from scratch can be fun but also time-consuming. I wish Skool offered some templates to kickstart the community-building process.
Lack of Advanced Features: For those of you who like lots of bells and whistles, Skool's simplicity might not be for you. It doesn't have some of the more complex features that other platforms offer.
No Offline Access: If your students want to access content offline, they're out of luck. Skool currently doesn't support offline access.
---
Who's It For: Ideal Skool Users
From my time spent exploring Skool, here are the folks I think would find it most beneficial:
Online Course Creators: If you're creating online courses and want a simple, straightforward platform, Skool is a solid choice.
Coaches and Consultants: Coaches seeking to build an online community and engage directly with their clients will love the simplicity and directness of Skool.
Subscription Membership Owners: If you want to monetize your content and community through subscriptions, Skool is well-equipped to handle that.
Mastermind Group Organizers: The direct messaging and community features of Skool make it ideal for organizing and managing a mastermind group.
SaaS/Product Developers: For developers wanting to gather user feedback and share feature updates, Skool's community and post-interaction features can be quite useful.
Influencers: If you're an influencer looking to build a stronger connection with your fanbase, Skool's community features can help.
Support Teams: Teams looking to build a community where users can support each other and develop organic help documentation over time may find Skool useful.
Event Organizers: The calendar feature makes Skool great for those who frequently run events, both online and offline.
Community Builders: If you're looking to build any sort of online community, Skool's features will facilitate discussion and engagement among your members.
Continuing Education Providers: If you offer continuing education or professional development courses, Skool's straightforward course builder and community engagement tools can be of great value.
In the end, Skool can be a good fit for anyone looking to build an engaged online community alongside structured content like courses or events.
---
Who's It Not For: Non-Ideal Skool Users
Now, Skool is pretty cool, but let's be real, it's not for everyone. Here are some folks who might not find it as beneficial:
Advanced Course Creators: If you're looking for more complex course-building features or advanced analytics, Skool might feel a bit basic.
Large Institutions: Large businesses or educational institutions might find the lack of branding options and advanced management features a drawback.
Users Needing Integrated Video Hosting: If you prefer a platform that includes integrated video hosting, you'll need to look elsewhere.
People Seeking Collaborative Learning Tools:  If your course design relies heavily on student collaboration, like group projects or shared documents, Skool's limited collaborative learning tools might not serve you well.
People who prefer Mobile App: And lastly, for those who love learning on their smartphones, the absence of a dedicated mobile app might be a downside for you.
---
Skool.com customer support
When it comes to customer support, Skool uses email. You ask them something, and they write back but it's not as fast as Live chat.
There's no live chat. So, if you like getting instant answers, you might be a bit let down.
Also, there's no phone support.
---
Who is Behind Skool.com?
Sam Ovens is the driving force behind Skool.com. He's not new to the scene. He's a successful entrepreneur and has already proven his mettle with his previous platform, Consulting.com.
So, when you're using Skool, you're not just getting a service. You're also getting Sam's years of experience and understanding of what educators and learners need. It's a platform that carries his mark.
---
Skool Free Account
Do you know what's cool about Skool?
You can take it for a test drive before you commit.
They offer a 14-day free trial, which I think is pretty awesome. You get to see firsthand if it's the right fit for you, without spending out a dime.
During the trial, you can access all the features, just as you would with a paid account.
You can create courses, form a community, and engage with members — the works. If it fits like a glove, great! If not, no worries.
You won't lose anything except maybe a bit of time.
---
Skool Alternatives
If you're looking at Skool, you might also be eyeing some of its competitors. And why not?
It's always good to check out all your options.
A couple that spring to mind are Teachable and Mighty Networks.
1. Teachable vs Skool.com
First up, we have Teachable.
Now, Teachable is great if your primary focus is on course creation.
But it's not as community-centric as Skool.
So if you're keen on building a community along with your courses, you might find Teachable a little lacking. In this case, you need to find its alternatives.
2. Mighty Networks vs Skool
If community building is your jam, Mighty Networks is worth checking out.
It has great tools for building and managing a community.
And a cherry on top? They offer their own mobile app.
So, if Skool doesn't tick all your boxes, these platforms might be worth a look.
After all, the best platform for you is the one that meets your unique needs, right?
---
FAQs related to Skool course builder
What is Skool?
Skool is an online platform for creating, managing, and selling online courses, combined with community-building features. It provides a single space for educators and students to interact, learn, and collaborate.
Who is the founder of Skool.com?
Skool.com was founded by Sam Ovens. He's also known as the founder of Consulting.com and has a solid background in entrepreneurship and coaching.
What's the pricing of Skool?
Skool offers a straightforward pricing model of $99 per month. This plan includes managing one group with unlimited members and courses.
Does Skool offer a free trial?
Yes, it does! Skool provides a 14-day free trial period that lets users explore and evaluate the platform before making a financial commitment.
What are the key features of Skool?
Skool has plenty to offer including course creation and management, direct messaging, a community forum, user profiles, gamification elements, and a scheduling calendar, among other features.
Does Skool have a mobile app?
Currently, Skool does not have a dedicated mobile application. Users access the platform through their web browsers on both desktop and mobile devices.
Does Skool offer live streaming?
Skool does not offer built-in live streaming. Users need to integrate with third-party services like YouTube Live or Zoom for live sessions.
Can Skool integrate with popular software like Zoom or Calendly?
As of now, Skool does not directly integrate with popular external software like Zoom or Calendly. Nor does it offer APIs or webhooks for custom integrations.
Does Skool offer customer support?
Yes, Skool offers customer support, but not through live chat. Users can reach out to their support team via email and are usually met with quick responses.
Are there alternatives to Skool?
Yes, several platforms offer similar services like Teachable, Mighty Networks, and Circle. Each has its own strengths and weaknesses, and the choice ultimately depends on your specific needs and preferences.
What are Skool's classrooms?
Skool's classrooms are their version of online courses. They support drip scheduling, lesson discussions, and transcripts for video and audio content.
Does Skool have a gamification system?
Yes, Skool uses a gamification system. It features a leaderboard and gives points and levels as rewards for active members. Administrators can highlight popular posts as 'gems'.
Can I manage events with Skool?
Definitely! Skool has a calendar feature for scheduling and managing both online and offline events. Email notifications keep members informed about upcoming events.
Does Skool support community building?
Absolutely! Skool is big on community. It facilitates interaction between students and instructors, provides a forum for discussions, and showcases member profiles for everyone to see.
What are the limitations of Skool?
While Skool offers great features, it has a few limitations like lack of collaborative learning tools, no dedicated mobile app, no live chat support, and no direct integrations with popular software like Zoom or Calendly.
Does Skool have a user-friendly interface?
Yes, Skool prides itself on its clean and simple user interface. It's easy to navigate, making it accessible to users with all technical abilities.
Can I personalize member profiles on Skool?
Indeed, you can! Skool offers rich member profiles. Members can display custom texts, link their social media profiles, and much more.
Does Skool support direct messaging?
Yes, Skool supports direct messaging. It encourages interaction between students, instructors, and students themselves, fostering a stronger sense of community.
---
Final Words about Skool.com Review: Is It a Scam?
In conclusion, Skool.com is a user-friendly online course management platform with standout community and gamification features.
However, the lack of video hosting, a dedicated mobile app, and built-in live streaming may limit its appeal to some users.
Wrapping up this Skool review, I must say, Skool is definitely a platform to consider for anyone needing to create and manage online courses.
It's got an easy-to-use interface, effective community-building features, and a clever gamification system that truly encourages participation.
However, it's important to remember no platform is without its downsides.
The lack of built-in video hosting, a mobile app, and live streaming might make some think twice.
That said, I believe Skool's strengths often outweigh these drawbacks, depending on your unique needs.
So, in wrapping up this Skool.com review, I'd say do your homework, check out the free trial, and see if it's a good fit for you.
There's plenty to love about Skool.com, and it could be just the solution you've been seeking!